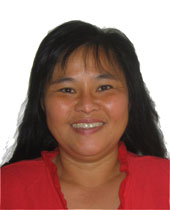 Hi! I'm Nong Lawson. I'm from Chiang Rai in North Thailand, and I offer tailored Thai cookery lessons in your own home.
They can be one-to-ones, or you can invite up to three friends (assuming your cooker has four rings!) and I'll teach you how to cook the most popular Thai dishes authentically.
Or, instead of paying a fortune for inauthentic food at an over-priced "Thai" restaurant, why not have me over to help you prepare a dinner party at your house? Save a fortune and impress your friends!
What you need
Each student will need:
a sharp knife (and I mean really, really sharp!)
a chopping board, preferably wooden
a good quality frying pan, or saucepan with a lid, depending on the lesson's core dish
a sense of adventure and a hearty appetite—or invite a friend round at the end of the lesson to help you eat your masterpiece!
It's also vital that you get freshest, best quality ingredients you can lay your hands on.
What I provide
Lists of ingredients to buy in preparation for your lesson
Careful, patient and fun demonstrations of how to prepare, cook, taste and serve your food for a fully-authentic Thai experience
Worksheets for each dish to remind you of the method and suggested variations
A knife-sharpener (I've never yet visited an English kitchen with a truly sharp knife!)
(Print out my leaflet to show your friends.)
Gift vouchers
Stuck for a gift idea for Christmas, a birthday, Mothers' Day or St Valentine's Day? Contact me and I'll email you a gift voucher valid for three months that you can put inside a greetings card.